Step by Step: Getting a GMRS License
BTECH Radios
There are several choices when it comes to selecting a service for family or business communications, including the Citizens Band Radio Service (CBRS), the Family Radio Service (FRS), the Multi-Use Radio Service (MURS), and the General Mobile Radio Service (GMRS). Of these four services, GMRS is arguably the most capable. For example, although many GMRS channels are on the same frequencies as FRS channels, GMRS users can use higher power than FRS users, can set up repeaters to extend the range of their radios, and have access to limited data applications such as text messaging and GPS location.
These capabilities come with a price, however. While the CBRS, FRS, and MURS can be used without obtaining a license, an FCC license, costing $70 for ten years, is required to operate a GMRS system. You must be 18 years or older (and not be a representative of a foreign government) to obtain a license, but a single license allows any family member, regardless of age, to operate GMRS stations.
The first step in applying for a GMRS license is to first get an FCC Registration Number, or FRN, if you don't already have one. First, go to the Commission's Registration System (CORES) and click REGISTER. Answer whether the FRN is for an individual or business and whether the address for the contact is within the U.S. and click CONTINUE. Complete the registration information (the form is shown below) and click SUBMIT. The CORES system will assign you an FRN as soon as you finish completing the form.
The next step is to apply for your GMRS license. Go to the FCC License Manager and type in your FRN and password, the click SUBMIT.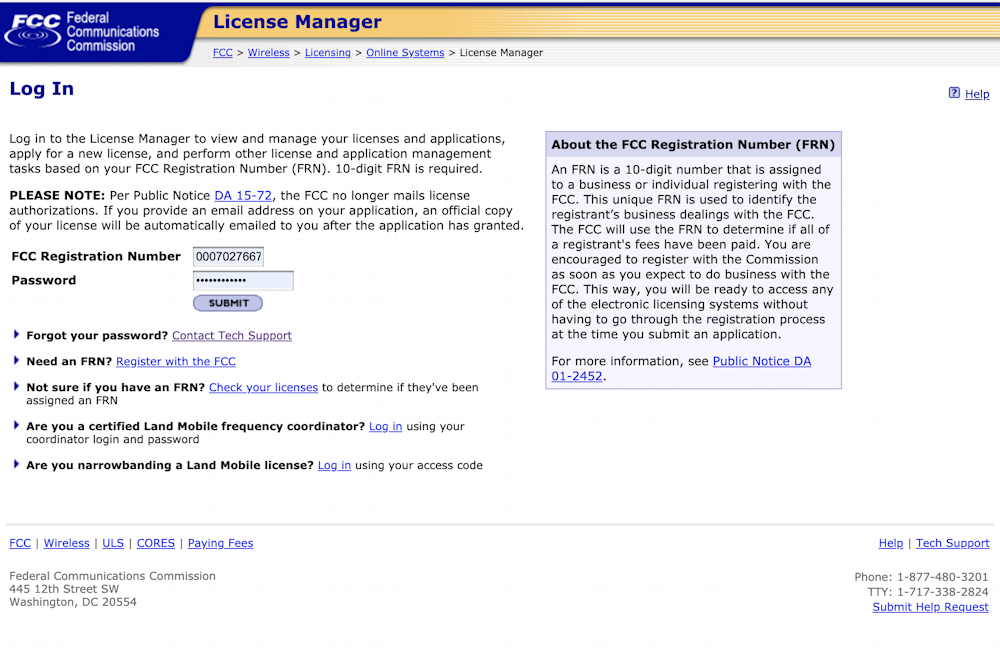 The next page will show your current licenses. I am a licensed radio amateur, so the screenshot below shows the status of my amateur radio license. To apply for a GMRS license, click on "Apply for a new license."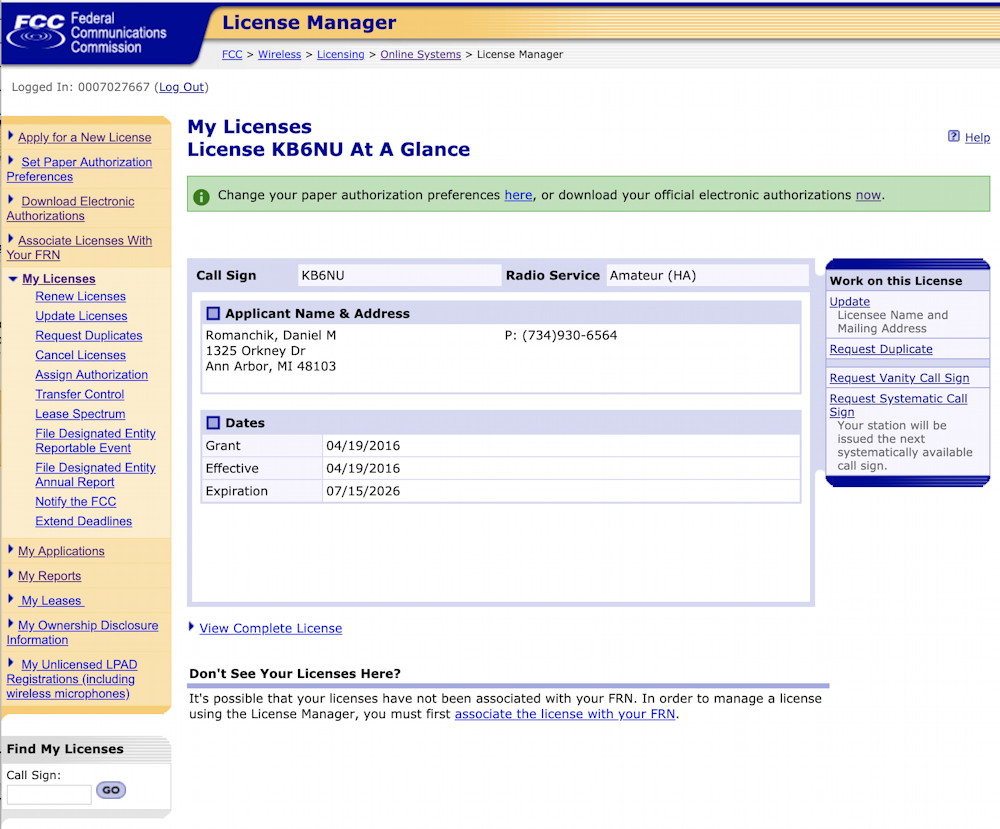 On the next page, select the last item—ZA – General Mobile Radio Service (GMRS)–from the drop-down menu, then click CONTINUE. Answer the applicant questions, then click CONTINUE. On the next page, enter your name and address, then click CONTINUE.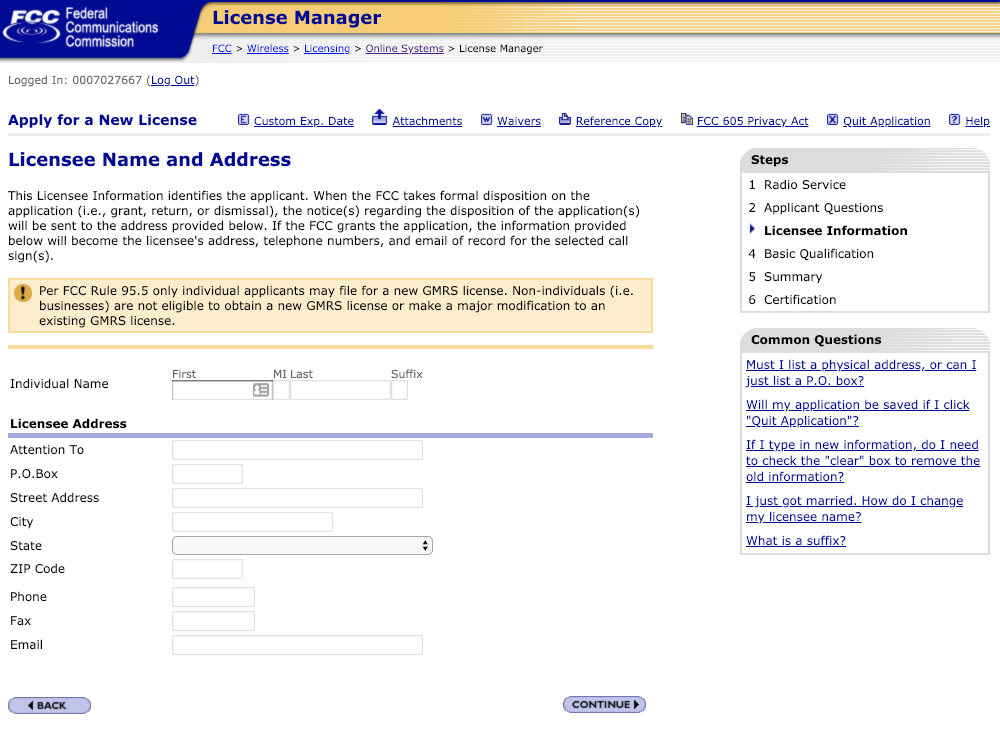 On the next page, you'll be asked if you have ever been connected with a felony. This is something relatively new on all FCC license applications. Answer the question, then click CONTINUE.
On the next page, you'll be presented with a summary of your application (as shown below). If you wish to change any of the information, click the appropriate EDIT button.
Click CONTINUE TO CERTIFY to proceed to the Certification page. On this page, you simply certify that you are eligible to hold a GMRS license. Enter your name and a title, if you have one, then click SUBMIT APPLICATION. Next, you'll see a confirmation of your application. Click CONTINUE FOR PAYMENT OPTIONS to proceed with payment. On the next screen, log in again with your FRN and password, and you'll get a page like the one below with a variety of payment options. I chose to pay with a credit card.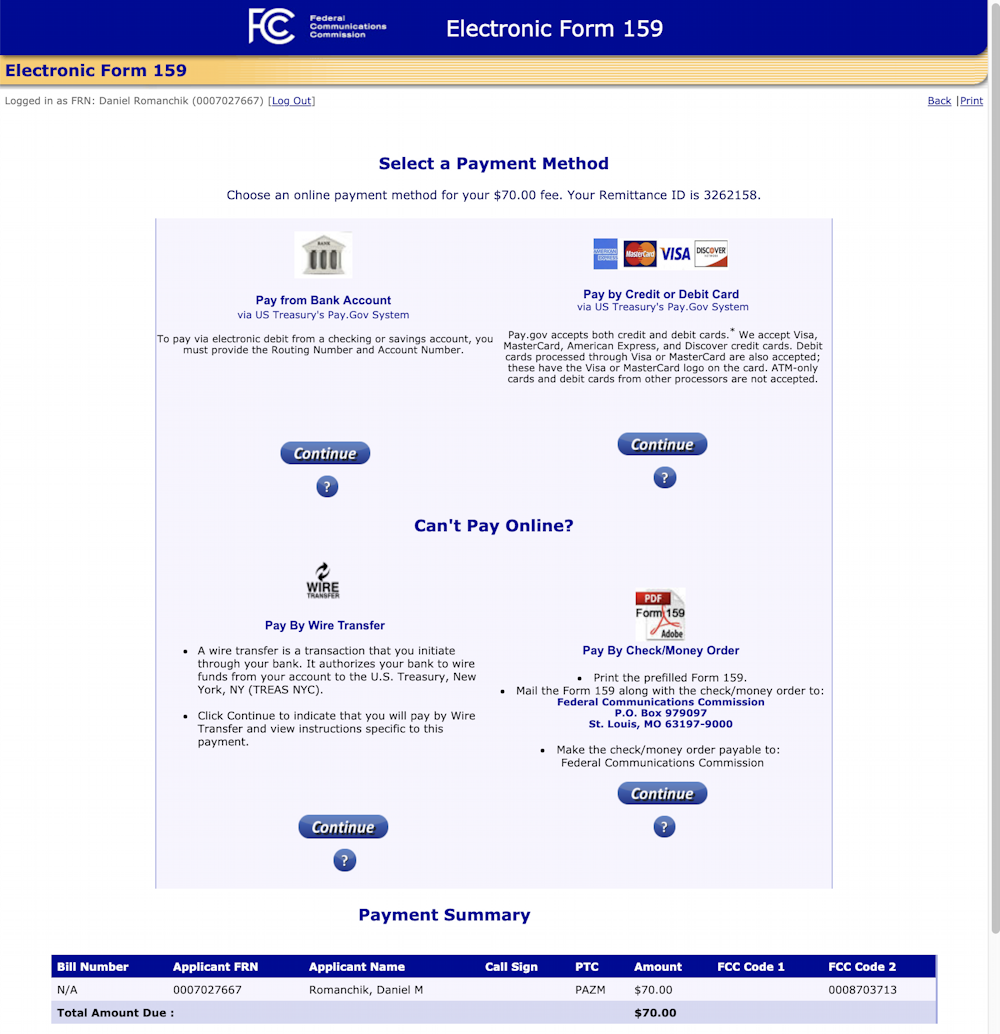 Enter your payment information, click the Continue with Plastic Card Payment button, and then step through a series of screens to make your payment, and you're done!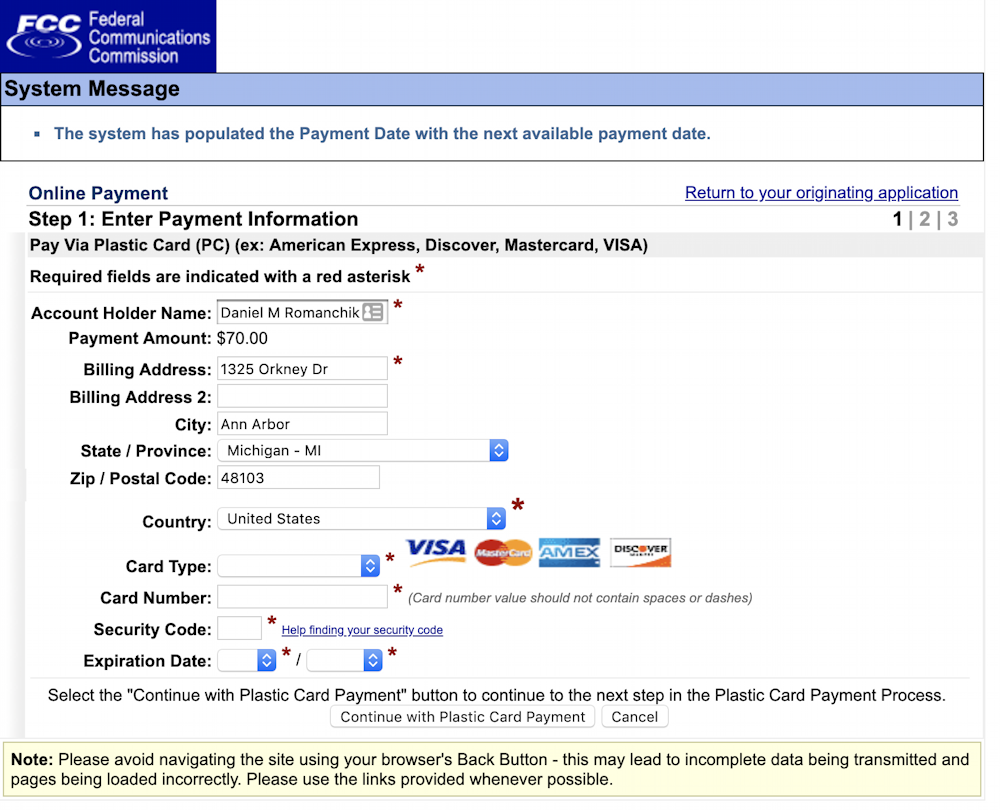 Eventually, you will receive an email verifying your credit card payment and notification that you've been issued a GMRS license. To download or print a paper copy of the license authorization, log in again to the FCC website and click the Download Electronic Authorizations link on the My Licenses page.